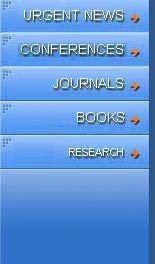 Active Reviewers 2010: More than 6000 reviewers helped the WSEAS in 2010. The WSEAS Conferences were organized in Universities and Hotels, where the reviewers were from the Universities and the University was responsible for the review process based on the contract of collaboration. WSEAS gave most of its conferences in 2010 to premium universities including: University of Cambridge (UK), University of Harvard (USA), Massachusetts Inst.of Technology - MIT (USA), China Jiliang University (China), Beijing Jiaotong University (China), University Paris-Sud (France), Federal University UFRN, (Brazil), Romanian Academy of Science (Romania), Univ. Politecnica of Bucharest (Romania), Technical University of Sofia (Bulgaria), Tianjin University of Technology and Education (China), The University of the West Indias (Trinidad & Tobago), University of Cantabria, Santander, (Spain), Zhejiang Univ. of Technology (China), University of Alcala, Madrid (Spain). These universities completed the review process.


Additionally, the WSEAS used the following Reviewers.
We are proud for the WSEAS society, a pioneer in the International Scientific Dialogue.
If you were a reviewer and your name is not in the following list, contact us immediately
Luminita Horhota
Orlando Frazao
Simona Ottaviano
Brian Yuliarto
Mostafa Kamkar Khaboushan
Zakia Hammouch
Hana Alouaoui
Mihai Caramihai
Raja S. Alomari
Irina Severin
Andreea Iacobuta
Mohammad Rashed Iqbal Faruque
Manish Tiwari
Mohammad Hassan-Montaseri
Tharwat Hanafy
Parviz Fattahi
M. Isabel Garcia-Planas
Nekkanti Kumaraswamy
Lyudmila Zinchenko
Garima Modi
Zulnaidi Yaacob
Uday Trivedi
Mohd Faiz Hilmi
Hanumanthappa J.
O. E. Maymand
Mihaela Neculita
Eva M. Rubio
Wael El-Taibany
Carmen Debeleac
Silviu Nastac
Vasant
Pandian
Kulwinder Singh
Xiaochun Xu
Luciano Telesca
Sk Sarif Hassan
Hasan-Arman
Youssef Said
Zarina Bibi Ibrahim
Alexandru Ogodescu
M Ps Chawla
Xiaodan Jiang
Ana Julia Viamonte-Sousa
Mohamed G Hassan
Xizheng
Elsayed Ibraheem Elsayed Massoud
Miroslav Voznak
Raquel Florez-Lopez
Oguz Arslan
Noor
Mohammed Ali
Smriti Agrawal
Mehdi Shariatmadari
Vijay Kumar
Hetal Shah
Adel Younis
Michael Voskoglou
Ioana Apostolescu
Antonio J. Tallon-Ballesteros
Olga Ioana Amariei
Ali H. Maamar
Saurabh Kwatra
G Vijay Kumar
Ancuta Rotaru
Tulus Tambunan
Ghelase Daniela
Daschievici Luiza
Saurabh-Mukherjee
Anjali Srivastava
Suzana Carmen Cismas
Bulent Acma
Harsh Sadawarti
Bouazizi Mohamed Lamjed
Vijay Kumar Banga
Howard Lo
Carlos Carreira
Venkata Durga Kumar
Recayi (Reg) Pecen
Kaan Kurtel
Laurentiu Rozylowicz
Hossein Showkati
Ricardo Lopez
Sudip Sen
Laura Mariana Cismas
Cristian Ioja
Lungu Mihai Aureliu
Mohamed Zahran
Agelos Papaioannou
Maysaa El Sayed Zaki
Muhammad Nawaz
Amit Mittal
Hakan Tozan
R Malathi
J Krishnan
Guido Izuta
Ingo Romey
Krisztina Uzuneanu
Jasni Mohamad Zain
P.Jeyanthi
Isabel Jesus
Bal Krishna - Upadhyay
Behzad Rezaei
Magiswary Dorasamy
Ata Elahi
Divakar Yadav
Muteba Ayumba Eustache
S Suresh Kumar
Prasanalakshmi Balaji
Abir A. Saad
Liviu Coman
Athanassios Stavrakoudis
Ali Hennache
Mihalis Golias
Vitor Tome
Geanina Cucu-Ciuhan
Nicolae Objelean
Haitham J. Taha
Ayca Tokuc
Debasis Giri
Gulden Kokturk
S.Sarala Subramani
Moises Salinas-Rosales
Nenad Zrnic
Mohammad Alshraideh
Daniel Badulescu
Alina Badulescu
Zulnaidi Yaacob
Damir Sumina
Ford Lumban Gaol
Lobont Oana
Azzouzi Messaouda
Arti Khaparde
Andreea-Clara Munteanu
Marc Poumadere
Khurshid Aslam Bhatti
Surinder Singh
Harekrishna Misra
Emre K?Yak
Kevin Kam Fung Yuen
Fairouz Bettayeb
Jayashree
Hafiz Muhammad Ali
Chee Seng
Patricio
Fawzi Abdelwahid
Lai Khin Wee
Xue Guan Song
Tzoraki Ourania
Sriram Subhash Amilkanthwar
Fazeli
Hamzah Ahmad
Devi Prasad
Ihsan Mohd Yassin
Ahmed Melegy
Dheeraj Joshi
Steve Hornsey
Noresah Mohd Shariff
Varzakas Panagiotis
Santosh Kumar
Alexandru Capatina
Grindei Laura
Hwee-San Lim
Helena
Robert Stefan Gyorodi
Ali Assi
R. Jagadeesh Kannan
Roy J. Issa
Petr Cika
B. Nagarajan
Vijay Kumar Banga
Ashish Umre
Daniel Vasile
U. C. Jha
K. Mani M. E.
Singaravelu Raghavan
Fernando
Thawatch Kerdchuen
Azadeh Arjomand Kermani
Yu Zhang
Cornelia Gyorodi
Sameer Saadoon Mustafa
Catalin Cruceanu
Jose Alberto Duarte Moller
Isabel S. Jesus
Suhas J Manangi
Chandrasekaran Subramaniam
Najib Guessous
Vo Quang Minh
Claudia Barenco Abbas
Vijay Mankar
Ahlem Selmi Mhenni
Nidhi Walia
Rajesh Joseph Abraham
Edoardo Fiorucci
Abdelkader Nouibat
Mohammad Tariqul Islam
Cristina Popirlan
Nazmul Islam
Veerakumar Venugopal
Laith Abdulhadi
Gerardo Iannone
Shanshan Liu
Rajasree Rao
Subashini
Mazdak Parsi
Karel Allegaert
Dimitrios Goulias
Saravanan Kumarasamy
Himanshukumar
Pooria Sattari
Elder G. Domingues
Aprna Tripathi
Viranjay M. Srivastava
Abdul Khader Jilani Saudagar
Abdolrahman Dadvand
Hongjun Liu
Kunnthphong Srisathit
Hemant Mahala
Magdy - Elnashar
Roumiana Kountcheva
Mandeep
Doinita Ariton
Arash Barjasteh
Iwan Adhicandra
Francesco Rotondo
Claudiu Ionut Popirlan
Eva Kurekova
Sahin Yildirim
Hyacinthe
Khubaib Ahmed Qureshi
Ciprian-Bogdan
Joao Rodrigues
Nicoleta David
Georgi A. Nenov
Surojit Ghosh
Shiva-Shavandi
Nubli Wahab
Amera I. Hussain
Arvin-Parsaei
Debojyoti Mitra
Sumit Jha
Cherif El-Amine
Praveen-Ailawalia
K. Babu Govindha Raj
Mrinalini Pandey
Radu Andrei
Wichian Sittiprapaporn
K. S. Sandhu
Shahaboddin Shamshirband
Saw
Tamilperuvalathan-Sekar
Mohamad Kamal A Rahim
Radian Belu
Syed Hussain
Anon Sukstrienwong
Moudar Zgoul
Carmen E. Eisinger Borcia
Ashraf Bany Mohammed
Jiri Hosek
Zarina Bibi, Ibrajhim
Alberto Delgado
Imran Abbasi
Subashini Hassan
Karmela Aleksic-Maslac
Francesco - Rotondo
Iulian-Constantin Vizitiu
Hime Aguiar
Jorge Martins
Amin Daneshmand Malayeri
Ashkan Farokhnia
Chandrasekaran Manoharan
Yaron Doppelt
George E. Rizos
Athanasios Theocharopoulos
Harish Kumar Rajagopal
Jiri Hrebicek
Catalina Spataru
Vasilis Christofilakis
Dumitrescu Daniela
V. R. Sarma Dhulipala
Seyfettin Bayraktar
Minhui Yan
Edit Lukacs
Vikas Misra
Hao-En Chueh
Gyorodi Cornelia Aurora
Bhagwati Prasad
Kok Mun Ng
Lai Khin Wee
Skander Belhaj
Alex Gonzaga
Corina Carranca
Dumitran Gabriela Elena
Syed Yahya Syed Yusainee
Mohamed Salih Dafalla
P Ganesh Kumar
Shu-Hsi Ho
Mahmood-Ghoranneviss
Adel Abdel-Rahman
Pouya-Derakhshan Barjoei
Mahdiyeh Eslami
Amir Ranjbar
Gabriel Chirila
Mohammad Akbari
Swapna Koshy
Bocii Sevastian Liviu
Al Emran Ismail
Atul Borade
Yangang Xing
Genc Hyseni
Fadi Hage Chehade
Mohammad Ali Ansari
Tanvir Islam
Haleh-Kangarloo
Saeid-Rafizadeh
Carmen Lungoci
Daniela E. Popescu
Shiraz Ahmed Maniyar
Nalini Rajarathi
Amarpal Singh
Nadezda Fuksova
Mario Cesar E. S. Ramos
Vishal - Gour
Eleazar Jimenez Serrano
Emre Kiyak
Thaweesak Yingthawornsuk
Gina Manda
Irina Gostin
Ommy Omar
Chakresh Kumar
Glenn Banaguas
Chin-Tsan Wang
Fawwaz Jinan Jibrael Jabri
Pankaj Kumar Sharma
Viranjay M. Srivastava
Suhas J Manangi
Manoj Kumar Shukla
Fattaneh Daneshmand
Coelho
Alexandru - Jivan
Ijaz Ali Shoukat
Rujira Kongnuy
El Oualkadi
Surendra S. Dalu
Muhammad Zakarya
Amir Ranjbar
Santosh Kalwar
Ahmed S. Mahdi
Wan Hussain Wan Ishak
Mathew
G. R. Sinha
Bouziane Mahmah
Jatinder Saini
Milindkumar Sarode
Md. Shamim Akhter
Ganapathy Pattukandan Ganapathy
Somkait Udomhunsakul
Mohd Saidfudin
Paritosh Bhattacharya
Naveen Kumar G Ramuniagri
Yin Liu
Hamideh Eskandari
Seifedine Kadry
Jussi Koskinen
Kamaluddeen Usman Danyaro
Al Emran Ismail
R. Lakshmipathi
Md. Haider Ali Biswas
George E. Rizos
Zoran Bojkovic
Fakhri Youssef
Chandrasekaran Subramaniam
Mrinalini Shah
Ana Munoz
Mgh Zaidi
Fernando Reinaldo Ribeiro
Chutisant Kerdvibulvech, Phd
Krishnaveni Muthan
Pedro Tadeu
Ciprian Sorandaru
Muhammad Aftab Rafiq
Homa Edalati Fard
Jesus Maria De Frutos Baraja
Chalang H. R. Muhammad
Penubaka Ram Kishore
Hamid Eghbalpoor
Kalaivani Doraisamyraja
K.Mani M.E.,Ph.D
Suparno - Satira
Namfon Assawamekin
Natarajan Vijayarangan
Adikay Sreedevi
Manjunath Kn
Alin Larion
Hossein Zeinivand
Rouached
S. Sasikumar
Francisca Grimon
Manoj Sahni
Amit Bhandari
Martin Skutil
Ahmed-Zeeshan
Varzakas Panagiotis
Sarosh Quraishi
Mohammad Pourmahmood
Siamak-Samani
Abdul Khader Jilani Saudagar
Doinita Ariton
Riaza Mohd Rias
Yaghoob Azizi
Surinder Singh
Yaghoob Azizi
Daniela Mariana Barbu
Jyoti Singhai
Mohsen Rasoulian
Zengshi Chen
Putra Sumari
Ricardo Gouveia Rodrigues
Paulo Duarte
Adel Z. El Dein
Abbas Karimi
Sahin Yildirim
A. Hadi-Vencheh
Mona Mohamed Nasr
Afshin Ghanbarzadeh
Sabah Tamimi
Ivan Rados
Yang Zhang
Humar Kahramanl
George Mastorakis
Rajasree Rao
D. Sivakumar
Charanjeet Singh
Guohui Yao
Nabil Mohareb
Chin-Feng Lin
Dhanasekaran
Babak Bashari Rad
M. Izadyar
Moumena Ahmed
Nubli Wahab
Wei-Tzer Huang
Nabil Mohareb
Mohammad Al-Amri
Jaikaran Singh
Rosa Reis
Thaweesak Yingthawornsuk
Ismail Rakip Karas
Poonkuzhali Sugumaran
Dzati Athiar Ramli
Andrea Piras
Frederic Kuznik
Zulkefli
Aboubekeur Hamdi-Cherif
Rodrigo Cofre
Camelia Szuhanek
Karel Zaplatilek
Irfan Gondal
Tss Balaji
G. M. Nasira
Luis N. Coria
Aung Kyaw Oo
Hamideh Eskandari
Sawtantar Singh Khurmi
A.Arul Lawrence selvakumar
A.Samet Hasiloglu
A.Samet HASILOGLU
A.Vijayakumar
A.W. Ordys
Aamir Malik
Aamir Shahzad
Abas - M.Amir
Abbas Farmany
Abbas S. Milani
Abd El Baes MOHAMED
Abd Rahman Ahlan
Abdelghani Raji
Abdelghani RAJI
Abdelhalim Boutarfa
Abdelkader Benyettou
Abdelkader Mojtabi
Abdel-Karim Daud
abdellatif boureghda
Abdellatif Esawy Awwad Abdou
Abdelmadjid BoudjemaI
Abdelmadjid BOUDJEMAI
Abdelouahed EL KHALIL
Abdel-Rahman Al-Qawasmi
Abdel-Rahman Al-Qawasmi
Abdeltif Amrane
Abdelwadood
Abdesselam BABOURI
Abdolreza Bahremand
Abdul Fattah
Abdulhamit Subasi
Abdullah Abdul-ameer Hussain
Abdullah Al Essa
Abdullah AL-MUYEED
Abdullah Altin
Abdullah Alwehaibi
Abdus samad
Abel Gomes
Abhirup Lahiri
Abid Almaini
Abolfazl Jalilvand
Abolfazl Salami
Aboubekeur Hamdi-Cherif
Adam Adamopoulos
Adamou-Mitiche Amel B.H.
Addison Rios-Bolivar
Adel A. Elbaset Mohammed
Adel Awad
Adel Mellit
Adel Smeda
Adela Bara
Adem Karahoca
Adi-Irfan Che-Ani
Adrian Ioana
Adrian Korodi
Adrian Rosca
Adriana Galderisi
Afef BEN OTHMAN
Afrim Syla
Afzal Muhammad Tanveer
Ahmad Fauzi
Ahmad Moreb
Ahmad Sadegheih
Ahmed Abou El-Azm
Ahmed El Oualkadi
Ahmed Melegy
Ahmed Mezrhab
Ahmed N. Abd Alla
Ahmed Rafea
Ahmed Saeed
Ahmed Sharaf Eldin
Ahmet ERTEK
Aissat Abdelkader
Ajay Kakkar
Ajith Kumarayapa
Akbar Hussain
Akram Avami
Akram Idani
Akshai Aggarwal
Al Falou Ayman
AL HEIB
Alaa El ľNahry
Alaa Fahmy
Al-Amri
Alb Lupas Daciana Alina
Alba
Albert Lysko
Albert Lysko
Alberto Duarte Moller
Alberto Eloy Garcia Gutierrez
Alberto Foyo
Aldo Artur Belardi
Aldo ROSANO
Aleck Ncube
Alejandro Fuentes-Penna
Aleksandar Saljnikov
Alessandro G. Di Nuovo
Alessio Secchiaroli
Alexander Chatzigeorgiou
Alexander Epshtein
Alexander Gelbukh
Alexander Mitsos
Alexander Pisarchik
Alexander Poularikas
Alexander Yakhno
Alexander Zemliak
Alexandru Bitoleanu
Alexis Polycarpou
Alfredo Candia
Alfredo Eduardo Zurita
Algimantas Valinevicius
ali ahmadian hoseini
Ali Asghar - Pourhaji Kazem
Ali Asghar - Pourhaji Kazem
Ali Ayad
Ali AZAR
Ali Gharsallah
Ali Khakifirooz
Ali Mahdoum
Ali Musa Bozdogan
Ali Nemdili
Ali Orhan Aydin
Ali Rafiee
Ali Sarreshtedari
Ali Serhan Koyuncugil
Ali Yalcin
Aliasghar BEHNAMGHADER
ALIMI ICHOLA Ibrahim
Alimujiang Yiming
Alina Cristiana Gavrilut
Alina Gavriluţ
Alireza - Khorami
Alireza Amirteimoori
Ali-reza Fereidunian
ALIREZA MOGHADDAMNIA
Alitouche Karim
ALITOUCHE KARIM
ALMOATAZ YOUSSEF ABDELAZIZ
Alsayed
Alsayed Algergawy
Amina Eladdadi
Amir Abass Oloomi
Amir Daei -Sorkhabi
Amir Farokh Payam
Amir Hamzeh Haghiabi
Amir hooshang Mazinan
Amir Houshang- Ehsani
Amir Oloumi
Amirhossein Fereidountabar
Amit Ailon
AMIT KUMAR GARG
Amit manocha
Amit Mittal
Amjad Mahmood
Ammayappan Laskhmanan
Amritasu Kumar Sinha
Ana Maria Madureira
Ana Paula Lopes
Ana Pilipovic
Anand B. Vyas
ANAND KAMAVISDAR
Anastasios Economides
Anca Croitoru
Anca Croitoru
Andre Jasper
André Sanches Ribeiro
Andrea GArcia Bravo
Andrea Piras
Andreas Floros
Andreas Koutoupis
Andreas M. Boehm
Andreas Stafylopatis
Andreas Veglis
Andrei Bala
Andrew K. Kikombo
Andrew Teoh
Andrey Dmitriev
Andrzej Zak
Andrzej Bieszczad
Andy STEFANESCU
Ang Tan Fong
Angel Catala
Angel F Tenorio
Angel Fernando Kuri-Morales
Angkoon Phinyomark
Aniekan Edet
Anil
Anil Yadav
Anirban Mahanti
Anis Nurashikin Nordin
Anis Nurashikin Nordin
Anish H. Gandhi
Anker Fjeld Simonsen
Anna MEDVE
Annie Ruimi
Anninos A. Photios
Annunziata D'Orazio
Anton Sotirov
Anton V. Doroshin
Antonello Spinelli
Antonin Slaby
Antonio Faba
Antonio Mucherino
António Pinto
Antonio Zanutta
Antonios Gasteratos
Antonios S. Andreatos
Antonis Hatziapostolou
Anuj K. Gupta
Anuj K. Gupta
Anupam-Shukla
Anwaar-ul-Haq
Aphrodite Ktena
Apostolos Sarris
Ar Zuhairuse Md Darus
Arantza Ugalde
Arash Kiyoumarsi
argiro vatakis
Argyrios Varonides
Arianit Maraj
Arie Maharshak
Arijit Bhattacharya
ARIS SKANDER
ARIS Skander
Arjuna Marzuki
Arman Ganji
Armando Barrañón
Armansyah H. Tambunan
Armen Bagdasaryan
Armin Fügenschuh
Arsham Borumand Saeid
Arturo Conde
Arturo Conde
arumugam
Arumugam Siri Bavan
Arun Goel
ARUN GOEL
Arun D. Kulkarni
Aruna Tripathy
Arundhuti Ghatak
Arvind
ARVIND DHINGRA
ASFAR ALI KHAN
Asher Yahalom
Ashfaque Ahmed Chowdhury
Ashish Khare
Ashraf Ahmad
Ashraf Anwar
Ashraf Darwish
ashraf elsayed mohamed
ASHRAF ELSAYED MOHAMED MOHAMED
Ashraf Hossain
Ashraf S. Hussein
Ashwani Kumar
Ashwinikumar P. Dhande
Asier Ibeas Hernández
Asli Celikyilmaz
Assadarat Khurat
Aswani Kumar Cherukuri
Athanassios Stavrakoudis
Athina Lazakidou,
Atit Koonsrisuk
Aung Kyaw Oo
Aurenice Oliveira
Averil Meehan
Azam Beg
Azami Zaharim
AZIZUDDIN KHAN
Azlinah Hj. Mohamed
Azzam Sleit
AZZEDDINE FERRAH
B. K. Goswami
B. P. Singh
B.NAGESWARA RAO
Babak Beheshti
Baber Aslam
Bagale
bagher moradi
Bahaa I. Kazem
Bahlol Rahimi
Bahlol Rahimi
Balachandar
BalaKrushna Tripathy
Banafsheh Zahraie
Baoding Liu
BAOUCHE RAFIK
Bart I. Rylander
Bashar Awad Al-Shboul
Basit Shahzad
Bassam Abu-Hijleh
Bassant Mohamed El Bagoury
Bassant Mohamed El-Bagoury
Bayaz Daraby
Bayaz Daraby
Bayaz Daraby
Bazil Taha Ahmed
Bechan Sharma
behzad mozaffari
Behzod Gaybullaev
Bekim Fetaji
Bekim Fetaji
Benedek Nagy
Benjamin Dewals
Benjamin HUERTA ORTEGA
Benjamin L Preston
BEREKSI REGUIG Fethi
Betul Kan
Betul Saf
Bhaskar Saha
Bhattacharya Dilip Kumar
Bhumin Pathak
BIJAY KUMAR ROUT
Bilge Siyahi
Bill McCarthy
Bill Williams
Bin Xu
Blaz Zmazek
Bocchiola Daniele
Bogdan Popa
Boonruang Maruingsri
Bora Kumova
Boris Dmitrievich Annin
Boris Goldengorin
Bor-shong LIU
Borys Kierdaszuk
Botoca Corina
BOTOCA CORINA
Boudaren Mohamed El Yazid
Bououdina Mohamed
Bourhan Tashtoush
Bozidar Potocnik
Breno Neri
Brindusa Covaci
Brindusa Covaci
Brindusa Covaci
Bruno Ferré
Brunonas Dekeris
Budi Setiawan
Burhan
Bychkov Alexei
Byoung Wook Choi
ByoungChul Ko
Byung Joo Park
C Aravind Vaithilingam
Cagdas Hakan Aladag
Calin Ciufudean
Calvo Tomasa
Camelia Ioana Ucenic
Canak
Caner Akuner
Carl Clark
Carlo Artemi
Carlo Burigana
Carlo Galuzzi
Carlos Humberto Llanos
Carlos M. Travieso
Carlos Machado Ferreira
Carlos Manuel Travieso-González
Carlos Moyano
Carlos Pampulim Caldeira
Carlos Sommer
Caroline Sweezy
Catalin Boja
Catalin Croitoru
Catalin Croitoru
Catalin Popescu
Catalin Stoean
Catalin-Daniel Caleanu
CATARINA CAMARINHAS
Cecília Reis
Cecília Reis
Cemil Ogretir
Cemil Ogretir
Cen Ling
cengizhan ipbuker
Ch. Aswani Kumar
Chakka. Vijay Kumar
Chandra Sekhar Pedamallu
Chandrashekar Shet
Chang-Hsiung Tsai
Changhyun Baek
Chao Xie
Chao-Cheng Shih
Charbel Fares
Charles Long
Charles Pinto
Chatrapatty BHUGWANT
Chee-Peng Lim
Chellali-Benachaiba
Chellali-Benachaiba
CHEN Hong-kai
Chen Tianzhou
Chen, Chih-yung
Cheng-Chang Jeng
Cheng-Chi Lee
Cheng-Hsing Hsu
Cheng-Hung Li
cherif Adnane
Cherif Adnane
Cherif Ould Lahoucine
Chetna Dabas
Chia-Chen Lin
Chia-Ming Sun
chidhambara rajan
Chih Ming
Chih-Hsien Hsia
Chih-Hung Hsu
Chih-Yu Chen
Chikatoshi Yamada
Chin Wen Cheong
Ching-Hung Lee
Ching-Wen Chen
Chin-Hsiang Cheng
Chiroiu Veturia
chiter
Chiunhsiun Lin
Choring-Shiuh Koong
Chris Hogger
CHRISTINA BENEKI
Christinson Sunny
Christos Chalkias
CHRISTOS VOLOS
Chung-Chu Liu
Chun-Hong Huang
Chunshien Li
Chun-Yao Lee
Chunzhao Liu
Ciprian LAPUSAN
Ciprian-Bogdan Chirila
Clara Ponte e Sousa
claude bayeh
Claudia Del C. Gutierrez-Torres
Claudia-Georgeta Carstea
Claudio Anselmi
Claudio Bruzzese
Codrin Nisioiu
Cong Tam Nguyen
Constantin Popescu
Constantin Udriste
Cosmin Porumb
Cosmin Sinescu
Cosmin Sinescu
Cristian Patrascioiu
Cristian Toma
Cristiana Radulescu
Cristiano Fiorilo de Melo
Cui Tao
Cyriaque Atindogbe
Cyril de Runz
Cyril de Runz
D.S. Vinod
Dagmar Janacova
Dagmara Spiewak
Dai-Yi Wang
Dakshina Ranjan
Dalibor Biolek
Damaris Fuentes-Lorenzo
Damelys Zabala
Damijan Miljavec
Damir Vucina
Dan Florentin Lascu
Dan George Tont
Dan Mancas
Dana Grecov
Dana Simian
DANGIS GUDELIS
Dania Bilal
Daniel Cristian CISMARU
Daniela Mariana BARBU
Daniela Popescu
Daniela Zirra
Daniele Bibbo
Daniele Giordano
Daniels Turlajs
Danimir-Mandic
Daoliang Li
Darko Goricanec
Dat Tran
David B. Bracewell
David Kim-Boyle
Debasis Ghosh
Deepak Dahiya
Deepak Laxmi Narasimha
Degeratu Sonia
Deihimi Ali
Deiva Oswin Stanley
Dejan Rancic
Denis Coelho
Deniss Kumlander
Denizar Martins
Desheng Dash Wu
Desok Kim
Devinder Kaur
De-Yuan Huang
Dhananjay Singh
Dheeraj Joshi
Dheeraj Joshi
Diana Cotoros
Diaryi Suleiman
Didik Prasetyoko
Diego Issicaba
Dilip H. Lataye
Dilip M. Chate
Dimitrios a. Georgakellos
Dimitrios E. Koulouriotis
Dimitrios Georgiou
Dimitrios Georgoulas
Dimitrios Ventzas
Dimitrios Xanthidis
Dimitris Achilias
Dimitris Gkritzapis
Dimitris Kaskaoutis
Dinesh Kumar Jain
Dinko Vukadinovic
Dinko Vukadinovic
Doina Tatar
Domingo López-Rodríguez
Dominic Denver John Chandar
Donald MYERS
Donald Sofge
Dong Dong Li
Dong Xing Wang
Donghyun (David) Kim
Dong-liang Lee
Dorel Dusmanescu
Dorian Cojocaru
Dorina Purcaru
Dorin-Dumitru Lucache
Dr Bruce Moulton
Dr N Arivazhagan
DR S S THAKUR
Dr Shahid Butt
Dr Wan Abdul Rahim Wan Mohd Isa
Dr. Achchhe Lal
Dr. Anirudh Pradhan
Dr. Anthony Joseph
Dr. Devraj Singh
Dr. Harpal-Tiwari
Dr. Mani Sankar
Dr. Mohamed Benghanem
Dr. Navneet Gupta
Dr. Pichai PAMANIKABUD
Dr. Pradyot Kala
DR. PRATYOOSH SHUKLA
Dr. Puja Khare
Dr. S.K.Singh
Dr. Saba Hilal
Dr. Trilok Chand Aseri
Dr. Vijay Kumar Kukreja
Dr.Balakrushna Tripathy
Dr.E.George Dharma Prakash Raj
Dr.Nanjundaswamy Raman
Dr.P.Aruna
Dr.Reshmy
Dr.Syeda Azeem Unnisa
DR.T.KISHORE KUMAR
Dumitru Cazacu
Dumitru Stanomir
Dursun Aydin
Dursun Aydın
Dzenana Donko
Earl Swartzlander
Ebrahim Matter Al-Gallaf
Ebrahim Malalla
Edison Spina Poli
Edson Pacheco Paladini
Eduardo A. Castro
Eduardo Mosqueira Rey
Efrat Blumenfeld-Lieberthal
Efthimios Karymbalis
Egils Ginters
Egils Ginters
Egils Ginters
Ehab H.E. Bayoumi
Ekatherina Charvalos
Ekram Khan
El Oualkadi
Elbadawy
Elena Bautu
Elena Corina Cipu
Elena Lebedeva
Elena Mereuta
Elena Mulet Escrig
Elena Niculescu
Eleni Kokkinou
Elif Derya Ubeyli
Elijah Blessing Rajsingh
El-Sayed El-Alfy
Elsayed Ibraheem Elsayed Massoud
Elvira Popescu
Elwin Chandra Monie
Emanuele Stomeo
Emmanuel Anagnostakis
Emidio Capriotti
Emilio Segovia
Emmanuel A. Anagnostakis
Emmanuel Lopez-Neri
En ZHU
Engin
Engin Yesil
Eniko Beatrice Bilcu
Enzo Grossi
Eraldo Banovac
Ergun Erçelebi
Eric Belhaire
Eric Zhi Feng Liu
Erivelton
Erki Eessaar
Ermira Shehi
Ernesto Vázquez
EROL KURT
EROL KURT
Ersin Elbasi
Eskandar Naraghirad
Esmail Fathi Loshani
ESSAM AL SHARABI
EUGENIA EFTIMIE TOTU
Eugenia FAGADAR-COSMA
Evangelos C. Tsimplostephanakis
Evelina Spakovica
Evgenia Surnina
Evgenia Suzdaleva
Evgeny Zveryaev
Eyup Cetin
F.G. Lupianez
F.-Javier Gracia
Fabrizio Gizzi
Fadi HAGE CHEHADE
Fahim Akhter
Fairouz Tchier
Faisal H. Aboul-Enein
Fangmin Guo
Faraj A. El-Mouadib
Faramarz - Ashenai Ghasemi
Farhad Mehdipour
Farid Ghani
Fateh Krim
Fatih V. Celebi
Faridah Hanum Ibrahim
Fatma Karaca
Fawzi Al-Naima
Fayez Zaki
Federico Mendez
Feifeng-Zheng
Felipe Jimenez
Fengming Michael Chang
Feras M. Al Faqih
Fernando Manuel Lucas Carapau
FETHI CHOUBANI
Filippos Vallianatos
Flavio Lucio Pontecorvo
Fotis Rigas
Fouad Giri
France Sevsek
Francesco Cioffi
Francesco Corvaro
Francesco Gallerano
Francesco Gianfelici
Francesco Palmieri
Francesco Zirilli
Francisco Alvarez-Vaquero
Francisco Araque Cuenca
Francisco Araque Cuenca
Francisco J. Rodríguez-Tovar
Francisco Ruiz
Franck Assous
Francois Fournier
Frangiskos V. Topalis
Frank Edughom Ekpar
Frédériic MURZYN
Friedrich-Karl Benra
Fuensanta Medina Dominguez
Fuh-Gwo Jeng
Fumiaki Imado
Fumihiro - Shoji
G Vijay Kumar
G. Pastor
G. Wiselin Jiji
G.Ganesan
G.Mohan Kumar
G.Parthasarathy
Gabriel Dimitriu
Gabriel Paul NEGREANU
Gabriel Sanchez Perez
Gabriela Mircea
Gabriela Rodica Hrin
Gabriela Tont
Gabriella Bognar
Gaetano Zizzo
Ganapathi Padmavathi
Ganesh Bhutkar
Gao Shqiao
Garima Krishna
Gaurav Bajpai
Gaurav Varshney
Gavril-Ioan Toderean
Geev Mokryani
Gennady Kolotkov
Genti Guxho
George Darie
George Demosthenous
George K. Adam
George Kliros
George LOJEWSKI
George Mavrommatis
George Miliaresis
George Papaevangelou
George Pasgianos
George Rzevski
George S. Vozikis
George Samaras
George Savii
George Tsekouras
George Tsekouras
George-Dragoş Ilie
Georgia Bezyrtzi
Georgia Garani
Georgios Tsourvakas
Gerardo M. Mendez
Ghaida A. Suhail Al-Suhail
Ghandi Manasra
Ghanshyam Singh
Ghassan Daghrah
GHEFFAR Yasmine
GHEFFAR Yasmine
Gholamreza Anbarjafari
Gholamreza Anbarjafari
Gideon Halevi
Gilberto Flores
Gilberto Perez Lechuga
Gilbert-Rainer GILLICH
Gilbert-Rainer GILLICH
Gintautas Saulis
Gintautas Stankunavicius
Giovanna Avellis
Giovanni Aiello
GIOVANNI GUALTIERI
Giovanni Leucci
Giovanni Leucci
Girija Chetty
Giuliano Casale
Giulio G.R. IOVINE
Giuseppe Fedele
Giwrgos Verros
Gley kheder
Gocheva-Ilieva, S.G.
Gopalkrishna Dhruvaraj Kamalapur
Graça-Pacheco Ribeiro
Gradimir V. Milovanovic
Gregorio Romero
Gregorio Romero
Grigori Sidorov
Grigorios Kyriakopoulos
Guangxue Wu
Guennadi Kouzaev
Guido Izuta
Guisong Liu
Guisong Liu
Gulum Birgoren
Guo Yu
Guohui Yao
Guo-Shing Huang
Guo-Shing Huang
Guoyuan Fu
Gurumurthy Vijayan Iyer
H.tarik Duru
Hadi - Aliakbarian
Hadi Ebrahimi
Hadi Gokhen
Hafidh Mechergui
Haiam Morsy Aboul Ela
Haiam Morsy Aboul Ela
Haifeng Wang
Haijie Yu
Haiyi Zhang
Haji Kamaruzaman Jusoff
Hakan Gurkan
Hakan TOZAN
Hakan UYGUCGIL
Hamed Mojallali
Hamed-Niroumand
Hamid Abachi
Hamid Reza Hoshyarmanesh
Hamid Tairi
Hamido Fujita
Hamidreza RAMAZI
Hamisai Hamandawana
Hamit Akbulut
Hamsakutty
Hamzeh Duwairi
Hanmin Jung
Hans Dieter Wacker
Harald Roclawski
Harald Schwarz
HARDEEP SINGH
Hariharan Muthusamy
Harley S. Alencar
Haroon Ur Rashid
Harsh Sadawarti
Hassan Majidian
Hassan Mathkour
Hassan S. Hedia
Hassan Shirvani
Hazem El-Bakry
He Guojin
He Xu
Heba Aslan
Heba Hassan
Hebe Alejandra Carreras
Heiki Tammoja
Heimo Walter
Helder Zagalo
Hélène Tap-Beteille
Hemalatha.M
hemant hajare
hemant v. hajare
Hemen Goswami
Hemen Showkati
Hend Bouziri
Heng-Yi Liao
Hichem Omrani
Hikmat Asadov
Himanshu Arora
Hiromitsu Yamagishi
Hironori Washizaki
Hiroshi Nabetani
Hiroyuki Mitsuhara
Hoda Mohamed Waguih Awad
Ho-Keun Song
Hong Zheng
Hongbing Zhu
Hong-Dar Lin
Hong-Ren Chen
Hongsheng Su
Horatiu Teodorescu
Horia Andrei
Horia Necula
Hoss Noubar
Hossam Abuel-Naga
Hossein Peyvandi
Houxiang Zhang
Hrvoje Sertic
Hsia Chih-Hsien
Hsiang-Fu Yu
Hsieh-Hua Yang
Hsien-Lun Wong
Hsin-Chieh Wu
Hsin-Hsiung Huang
Hsin-Jang Shieh
Hu Wei
Huashui Zhan
huda nawaf
Hugang Han
Hugo Cruz-Suárez
Hui Li
Hui-Kai Su
Hui-Ling Yang
Hujeirat, Ahmad, A.
Hulya-ORS
Humberto de Jesus Ochoa Dominguez
Hung-Jen Yang
Hung-Ming Chen
Hur Don
Huseyin ANKARA
Huseyin Ince
Hussein A. Kazem
Ian Whalley
Ibrahim Al-Bahadly
Ibrahim Canak
Ibrahim Cil
Ibrahim Develi
ibrahim mammadzadeh
Ichiro Akagi
Igor Astrov
Igor Begun
Igor Lemberski
Iis Sopyan
Ilya - Simanovskii
Ilya Ioslovich
Ilya Simanovskii
Imran Ahmad
Ioan DOROFTEI
Ioan Enescu
Ioan Lie
Ioan Susnea
Ioan-Gheorghe Ratiu
Ioannis F. Gonos
Ioannis Karamitsos
Ioannis Mavridis
Ioannis Politis
Ioannis Vagelas
Ioannis Vardiambasis
Ioannis Xenidis
Ion Bucur
Ion Carstea
Ion Melinte
Ion V. Ion
Ionel Botef
Iosif I. Androulidakis
IQBAL H. JEBRIL
Irakli Shekriladze
Irena Valova
Irene Luque Ruiz
Irene Zananiri
Iris Athamaica Lopez Palacios
Irraivan Elamvazuthi
Irshad Hussain
Isabel Maria Baltazar Simões de Carvalho
Ishak Hashim
Ismail AKSOY
Ismail Musirin
ISMAIL NACI-CANGUL
ismail saritas
Issam Moghrabi
Issarachai Ngamroo
Iuliana Oana MIHAI
IULIANA VINTILA
Iustin PRIESCU
Ivan Derpich
Ivo Stančić
Ivonne Honekamp
Iwona Mróz
J. Jay Liu
J. S Mandeep
Jacek Kolodziej
Jacqueline Rice
Jacques Henry Bellec
Jaejoon Kim
JAFAR A. QASEM
jahed naghipoor
Jai Prakash Shukla
Jai Prakash Shukla
Jaime Lloret
Jain-Shing Liu
Jamal Dargham
Jamal-Eddine El Khamlichi
Jamel Orfi
James Buick
James Chen-Chien Hsu
James Hearon
James Vance
Jamshid Mosavi
Jan Ochodnicky
Jang Jong Pil
Jaroslava Wendlova
JASWINDER SINGH DILAWARI
Javed Khan
Javier Bilbao
Javier De Andres
Javier Pereira
Javier Ramirez Perez de Inestrosa
Jawad Hussain Syed
Jawahitha Sarabdeen
Jayantilal N. Patel
Jayantilal N. Patel
Jean-Pierre Ezin
Jemal Sanikidze
Jen-Chih Lin
Jenica Ileana Corcau
Jennifer Sample
Jenn-Tzer Yang
Jeong Yon Shim
Jerneja Zganec Gros
Jerzy Nawrocki
Jerzy Respondek
Jerzy Respondek
Jerzy Stefan Respondek
Je-Sung Bang
Jesus Martinez-Frias
Jesus Martin-Vaquero
JIAHONG-CHEN
Jian Wang
Jianfu Du
Jiang Zhu
Jianwei Shen
Jiawei Xiang
Jichao Zhao
Jie Hu
Jie LIU
Jimmy Kao
Jin Lei
Jin Wang
Jinmu
Jin-Tae Kim
Jin-Wook Baek
Jinyin Chen
Jiri Drapela
Jiri F. Urbanek
Jiri Klima
Jiri Kucerik
Jiri Misurec
Jitka - Mohelnikova
Jitka Mohelnikova
Joanna Boguniewicz
Joao Manuel R. S. Tavares
João Ponte-e-Sousa
Joaquin Jordan
JOAQUIN RODRIGUEZ
John Anagnostopoulos
John Arroyo
John Ayoade
John Billingsley
John Carranza
John Cater
John Chatzakis
John Murphy
John Thompson
John Tsiligaridis
Johnner P. Sitompul
Jonas Rundquist
Jonathan K. Adams
Jong-Hyouk Lee
Jorgaq Kacani
JORGE A. RUIZ VANOYE
Jorge A. Ruiz-Vanoye
Jorge Diaz
José A. Orosa
José A. Orosa
José A.-Orosa
Jose Aguilar
JOSE ALBERTO DUARTE MOLLER
José Antonio Orosa
José Araújo
Jose Arturo Mora Soto
Jose D. Flores
José Farinha
José Gil Teixeira Beltrão
José Ignacio Hernández López
Jose Juan Garcia-Hernandez
JOSE MACHADO
Jose Mireles Jr.
Jose S. Murguia
JOSE S. MURGUIA
Jose Soeiro Ferreira
Josef Hynek
Jose-Francisco Astorga-Paliza
Jose-Luis Sanchez
José-Luis Vázquez-Burguete
Joseph Nybo Lin ( Chih Ming Lin)
Josip Music
Joy Iong- Zong Chen
Juan A. Marin-Garcia
Juan Jose Flores Romero
Juan Jose Pardo Mateo
Juan Rosell
Juan V. Capella
Juan Zapata
Jue-Sam Chou
Juin Ling Tseng
Juin-Ling Tseng
Julian D. Marshall
Julián Pucheta
JunFeng Yin
Jungpil Shin
Junkang Feng
Jurij Krope
Jurij Krope
Jyotiraj Sharma
Jyri Rajamaki
K G Viswanadhan
K Karibasappa
Kadim Jawad
Kafia Shareef
Kailin Jian
Kai-Long Hsiao
Kakuro Amasaka
Kalum Priyanath Udagepola
Kamaljit Singh Saini
Kamel Al-Tallaq
Kamel Rahouma
Kamil Dimililer
Kamil Dimililer
Kamran Arshad
Kamran Fatahi
Kamran Mohajeri
Kamran Mohajeri
Kamuran Turkoglu
Kandra Lili
Kankana Chakrabarty
Kannan Rajkumar
Kap Seung Yang
Karen Daniels
Karim Ivaz
Karuppanagounder Somasundaram
Kashif ADeel
Katarina Ćurko
Kausik Chatterjee
Kavikumar Jacob
Kavitha - Velayutham
Kazuhiro Fukuyo
Kazuto YUKITA
Kei Eguchi
KEPGUEP NARCISSE MICHEL
Khadijah Lakkis
Khairurrijal Khairurrijal
Khaldi Belgacem Said
Khalid Mohamed Hafez
Khalil I.T. Al-Dosary
Khalil Shihab
khosrov- Dabbagh Sadeghipour
khosrov- Dabbagh Sadeghipour
Khumanthem Manglem Singh
Ki Young Kim
Kim Le
Kin-Yeung WONG
Kiran Ijaz
kk-mishra
Klaus Pfeiffer
Klimis Ntalianis
Konduri Raja Rajeswari
Konrad Domke
Konstantin Belyaev
Konstantin Volkov
Konstantin Volkov
Korkobi Talel
Kostadin D. Kratchanov
Kostas Arvanitis
kourosh eghbalpur
Kouzou Abdellah
Kovač Nikša
Krzysztof Perlicki
Ksenija Dumicic
Kuan-Chou Lai
Kuang Yuan Kung
Kuei-Yang, Wu
Kuentai Chen
Kujtim Hyseni
Kulkarni Jayant
Kumaran Kadirgama
Kun Luo
Kun-Lin Hsieh
Kunnthphong Srisathit
KVN sunitha
Kyriaki Kitikidou
Kyunghee Lee
L. Chockalingam
Laarej MERAD
Ladislav Huraj
Lakhdar Chiter
Lakhdar RAGOUB
Lamberto Tronchin
Lamia chaari
Laszlo Varga
LATES Mihai Tiberiu
Latha Parameswaran
Laura STEFANESCU
Laura UNGUREANU
LAVANYA DEVI GOLAGANI
Lawrence Willey
Lawrence Y. Deng
Le Yi Wang
Leo Juhani Riihentaus
Leonard Presby
Leonardo Pagnotta
Lester Ingber
Lester Ingber
LEVENT YILMAZ
Leyla Y. Tokman
Li Bing Nan
Li Shuhong
Liang Zhang
LIANG ZHOU
Liberatina C. santillo
Libor Pekar
Liew Chee Sun
Ligia Munteanu
Lili He
Liliana-Mihaela Moga
Lily D Li
Lily Lin
Lim Hwee San
LIN Feng
Lina Vasiliauskiene
Linas Svilainis
Lingyu Wang
Lishang Yang
Liu Haipeng
Livan
Ljubomir Lazic
Longjiang Yu
Loo Chu Kiong
Loredana Anne Marie - BADESCU
Lorella Pascolo
Lotfi Merad
Louiza BOUALLOUCHE-MEDJKOUNE
Loukas Dimitriou
Loukas Georgiou
Lubnen Moussi
Lubomír SMUTNÝ
Lucian Lupsa
LUCIANA CRISTEA
Luigi Pomante
Luisa Mtz Muneta
LUNGU ROMULUS
Luping Fang
Lupu Ciprian
Lupu Ciprian
Lyuba Alboul
M Ayoub-Khan
M. Ali Hajji
M. Arfan
M. Gloria Sanchez Torrubia
M. Mofazzal Hossain
M. S. Mahadeva Naika
M. Shamim Kaiser
M. Zakir KANBUR
M.E.Shahverdi
M.Rajesh Kumar
M.Reza - Emami Azadi
M.Vasudevan
Ma Maode
Madalina CONSTANTINESCU
Madan Kumar Jha
Madhusudan Singh
Madjid Khalilian
Mahalinga V. Mandi
Mahdi Boukrouche
Maher I. Rajab
MAHER I. RAJAB
Mahesh S. Chanvan
Mahesh S. Chavan
Mahmadyusuf Yunusi
Mahmood Anwar
mahmood hosseini
Mahrokh Maghsoodi
Mahsa Kiani
Maiga Chang
Maitree Podisuk
Maizam Bt Alias
Maja Atanasijevic Kunc
Maja Fredotovic
Majlinda Fetaji
Makbul Anwari
Makbul Anwari
Mamdouh I. Khoder
Mandeep Singh Jit Singh
Manfred Doepp
Manikandan Swamykannu
MANOJ KUMAR
manoj saxena
Manouchehr Salehi
Mansour Zahedi
Manu Singh
Manuel Filipe Santos
Manuel Rocha Iturbide
Manuel Urbano
Manuela Panoiu
Marc Hensel
Marcel BOGDAN
Marcel ROSCA
Marco Neri
Marco Virgilio
Marek Bykowski
Maria Cristina - Vilhena de Mendonça
Maria de Fátima Alves da Silva
MARIA DE FÁTIMA NUNES DE CARVALHO
Maria Dobritoiu
Maria Graca Brito
Maria Helena Nadais
Maria Leftaki
Maria N. Moreno Garcia
Maria Rizzi
María-Dolores Bovea
Maria-Isabel Sanchez-Segura
Marie Bernard Sidibe
Marina Chukalina
Marina Cicin-Sain
Mario Spremic
Marios Moschakis
Marios Soteriades
Marium Jalal Chaudhry
Marius Emanuel Popa
Marius Marcu
Marius-Constantin Popescu
Markus Borschbach
Martin Holena
Mary George
Mary Snow
Maryam Shojaei Baghini
Masaji Tanaka
Masaki Kurematsu
Maslin Masrom
Maslin Masrom
Maslina Darus
Masri Ayob
Massimiliano Ferrara
Massimo Buscema
Massimo Corcione
Matteo Bertozzi
Matteo Cacciola
Mazalkova Marketa
MD. APEL MAHMUD
Md. Mahbub Alam
Md. Mahbub Alam
Md. Rajibul Islam
Md. Rajibul Islam
Mehdi FarrokhRooz
Mehdi Rezaeian Zadeh
Mehdi Roopaei
mehrdad ramazanipour
Melih Turgut
MenakaSivakumar
Mendas Abdelkader
Meng-Chun Lin
Menouer Boubekeur
Merlin TEITCHOU
MESSAOUDA AZZOUZI
Metın Turkay
Michael Aristidou
Michael Hosein
Michael J. Bucknum
MICHAEL LOUPIS
Michael Mann
Michael Schwarz
Michael Zelikson
Michail Kalogiannakis
Miguel A. de Avillez
Miguel Couceiro
Miguel Angel Gomez-Nieto
Mihaela - Banu
Mihaela Banu
Mihaela Colhon
Mihaela I. Muntean
Mihaela Lascu
Mihaela Popescu
Mihaela Ungureanu
Mihaela Voinea
Mihai Gavrilas
Mikael Lüthje
Mikhail Deryabin
Mikhail Itskov
Mikhail Roytgarts
Milan Krasl
Milan Tuba
Milko Marinov
Milos Seda
Milton Martinez Luaces
MINEA ALINA ADRIANA
Ming Li
Mingchao Li
Ming-Lang Tseng
Ming-Puu Chen
Ming-Shen Jian
Ming-Shi Wang
Mingyuan DU
Minh Hung Le
Minh Vo
Minoru Ueda
Min-Soo Kim
Min-Xiou Chen
Mir Mahdi Zalloi
MIR MOHAMMAD
Mircea Dobriceanu
Mircea Popa
Mircea Radulian
Mircea Spiru GRIGORIU
Mirela Mazilu
MIRELA MAZILU
Mirela-Catrinel Voicu
Miriam Capretz
Mirjana Pejic Bach
MIRZA JAHANZAIB
Mithun Prasad
Mitiche Lahcène
Mohamad MUHIEDDINE
Mohamed K. Awad
Mohamed Abdou
Mohamed Aborizka
Mohamed Bashir Hassan
Mohamed Benyettou
mohamed bizanti
Mohamed Bououdina
Mohamed Elboukhari
Mohamed Eldosoky
Mohamed Elhadi
Mohamed Maidi
Mohamed Maluk
Mohamed S. Gadala
Mohamed Samir Mohyeldin
Mohamed Yassin
Mohamed Zahran
Mohamed-BENYETTOU
Mohammad Sedghi-Asl
Mohammad - Hussein
Mohammad Al-Amri
Mohammad Alanazi
Mohammad Ali Orumiehchiha
Mohammad Arif
Mohammad Golkhah
Mohammad Gufran
Mohammad Hossein Refan
Mohammad Kamal
Mohammad Kamruzzaman
Mohammad Kamruzzaman
Mohammad Mehdi Karkhanehchi
Mohammad Nadimi-Shahraki
mohammad reza soheilifar
mohammad reza soheilifar
mohammad reza soheilifar
Mohammad Riaz Moghal
Mohammad Tariqul Islam
Mohammad Tariqul Islam
Mohammed Shabat
Mohammed Bait Suwailam
Mohammed BELKHEIRI
Mohammed CHADLI
Mohammed El-Abd
mohammed Ibbini
Mohammed Mostafizur Rahman
Mohd Agos Salim Nasir
Mohd Ashraf Ahmad
Mohd Hairi bin Halmi
Mohd Helmy Abd Wahab
Mohd Hezri Fazalul Rahiman
Mohd Hezri Fazalul Rahiman
MOHD HEZRI FAZALUL RAHIMAN
Mohd Hezri Fazalul Rahiman
Mohd Najib - Mohd Salleh
Mohd Najib - Mohd Salleh
Mohd Nazri Ismail
Mohd Norzali Haji Mohd
Mohd Zainal Abidin - Ab Kadir
Mohd. Hasan Ali
Mohsen Askari
Mohsen Selim Asker
Mohsen Toorani
Mokhled Sulaiman Al-Tarawneh
Mokhtari Fouad
Mona El-Azab
Mongi BESBES
Monia - Najjar
Monika Kapus-Kolar
Monis Akhlaq
Monis Akhlaq
Morteza Bagherpour
Morteza Sattari
Mostafa Abutaleb
Mostafa Ali
Mostafa Eidiani
Mostafa Kashani
Mostefa NADIR
Moussa Demba
Moustapha Diaby
Moutasem Shafa'amry
mozafareddin - ferdosian tehrani
Mrinalini Panday
Muaz Niazi
Mubashar-Mushtaq
Mu-Chun Su
Mufid Abudiab
Mufti Mahmud
Muhamad Mat Noor
Muhammad Abulaish
Muhammad Almas Anjum
Muhammad Arif Wahla
Muhammad Choudhary
Muhammad Kalimuddin Khan
Muhammad Kamran
Muhammad Sulleman
Muhammad Yasser
Muhammed Ibrahem Syam
Muhammet - Koksal
Muhammet Koksal
Mujahid Fahmy Ibrahem Al-Azzo
Mujgan Sagir Ozdemir
Mukesh Kumar Sharma
munivel
MURALIDHARAN
musa mailah
Musa Mailah
Mustafa Bayram
MUSTAFA KUMRAL
Mustapha Adel BENSELAMA
Mustapha C.E. Yagoub
Mustapha Rachdi
Myzafere Limani
N.Jaisankar
N.Nagarajan
Na Liu
Nabendu Chaki
Nabil El Tayeb
Nabil M. Hewahi
Nabil Mohareb
Nabil Moussa
Nadeem Ahmed
NADESH R.K
Nadir Hossain
Naeem Zafar Azeemi
Naisal Nabi
Nai-Wen Kuo
NAJEH LAKHOUA
Nakhoon Baek
nalini
nalini rajarathi
Nam Tran
Nanaji Niranjan Kumar Injeti
Naoyuki Kubota
Narong Mungkung
Narongrit Waraporn
Natalia Shemyakina
Natalia Vanetik
Natalya Kizilova
Nathan Clarke
Nattapong Phanthuna
navid Mir Mothhary
Navneet Gupta
Nayan Shah
Nayrah Shaltout
Nayrah Shaltout
Nazrita - Ibrahim
Necibe Füsun - Serteller
Necla Kadioglu
Neda Baktash
Neeraj Nehra
Nepomuceno
Nermin Ozgulbas
Neveen Ghali
Neveen Ghali
Nguyen N. Tran
Nicholas Evangelopoulos
Nicholas Harkiolakis
Nick Kearney
Nick van de Giesen
Nicola Pitrone
Nicolae Calin Popa
Nicolae Pop
Nicolae Popoviciu
Nicolae-Calin POPA
Nicoletta Adamo-Villani
Nik Abdullah Mohamed
Nikola Vlahovic
Nikolai Kobasko
Nikolaos Eliou
Nikolaos Taoussanidis
Nikolay Djagarov
Nikolay F Djagarov
Nikos Halidias
Nikos Loukeris
Nikos Markatos
Nima Amanifard
Nirmal Baran Hui
Nitin Rakesh
Nobutaka Ito
Nodari Vakhania
Noor Akma Ibrahim
Noor Habibah Arshad
Nooritawati Md Tahir
NOORITAWATI MD TAHIR
Norazah Mohd Suki
Noraziah
Norbert Herencsar
Norhisam Misron
Noura Boudiaf
Nur Sayeed Hassan
nur'aini
Nur'Aini binti Abdul Rashid
Octavian Cret
Ognyan Borisov Manolov
Ogun Dogru
Oguzhan Urhan
Oksana Gleb
Oktay Bayat
Oleg Makarynskyy
Olga Martin
Olga Nazarenko
Olga Pavlenko
Olga Soboleva
Olinto César Bassi de Araújo
Olivera Pronić
Om N. Bhargava
Omar Jose Lara Castro
Omar Othman Badran
Omar Shatnawi
Omer Soykasap
Ong Goh
Onintra Poobrasert
Onsen Toygar
Oreste S. Bursi
Orhan Donmez
Orlanda-Póvoa
Osama - MARZOUK
Osamah Badarneh
Oscar Gustafsson
Oscar Martinez Bonastre
Osnat Keren
Osslan Osiris Vergara Villegas
Otakar Wilfert
Ottavia Corbi
Ozgur Koray SAHINGOZ
P. Mariappan
P. S. Grover
P. Satish Kumar
P.Palanivel
Pablo Blanco Gómez
Padma Murali
padmavathi ganapathi
Palanivel
Paniti Netinant
Pantelis Soupios
Paola Britos
Paolo Di Giamberardino
Paolo Taticchi
Pao-Ta Yu
Paramasivam Jayachandran
Paramasivam Murugan
Paraskevi Mentzelou
Parisa Mohammadi
Parshotam Sharma
Parvinder Singh
Pasquale Avino
Pasquale Avino
Patrice Brault
Paul Curiac
Paulo G. Pereirinha
Pavel Celunda
Pavel Todorov Stoynov
Pavlo Maruschak
Pavol Zajac
Pawan Kumar Basniwal
Pawel D. Domanski
Paweł Majdosz
Payman Moallem
Pejman Tahmasebi
Pelin YILDIZ
Peng Chen
Peng Wang
Pere Miribel-Català
Pere Miribel-Català
Pervez Ahmed
Pervez Ahmed
Peter Chu
Peter de Boves Harrington
Peter Kelly
Petia Genova-Kalou
Petr Cermak
Petr Hajek
Petr Mastny
Petras Rupšys
Petrica Pop
Petrisor Anca
Phadungsak Rattanadecho
Philippe Dondon
Philippe Fournier-Viger
Phillip Bradford
Phillip Cheong Ngai
Pi Jun
PIJUSH KANTI BHATTACHARJEE
Piotr Kulczycki
Piotr Rykaczewski
Pivac Snjezana
Po Keung WONG
POKKULURI KIRAN SREE
Ponnurangam Dhavachelvan
Ponnurengam Malliappan Sivakumar
Poornachandra
Por Lip Yee
Pouya-Derakhshan Barjoei
Prabhakar karthikeyan
Prabu Dorairaj
Prabu D
PRABU S
Pradyot Kala
Pralay Pal
Prantik Mandal
Prashant Nagarnaik
Prasit Jiyapanichkul
Pratim Kumar Chattaraj
Pravoslav Martinek
Pritam Singh Grover
Priyadarshan S. Dhabe
Prof Ashok B. Kulkarni
Prof.D.S.Chauhan
Przemyslaw Herman
PS Grover
Qingyi Zhan
R. saadane
R. Tavakkoli-Mogahddam
R.ASOKAN
Raafat Gadelrab
Rabiah Abdul Kadir
Rabie Ramadan
Rachid El-Bachtiri
Rachid Saad
Rachid Sammouda
Radhika S. Grover
Radjenovic Branislav
Radonja Pero
Radouane YAFIA
Radu Ciprian Bilcu
Radu Dab Rugescu
Rafa E. Al-Qutaish
Rafic Bachnak
ragab abdelaziz elsehiemy
ragab abdelaziz elsehiemy
Raghu Gompa
Rahmi Nurhan Celik
Rahul Dev Misra
Rainer Krebs
Raj Senani
Raja Alomari
rajarathi nalini
Rajasvaran Logeswaran
Rajasvaran Logeswaran
Rajesh Joseph Abraham
Rajesh Joseph Abraham
Rajesh Kumar
Rajesh Pande
Rajeshree D. Raut
Rajiv Sharma
rajveer mittal
RAJVEER MITTAL
Rakesh - Sarin
Rakesh - Sarin
Rakesh Arya
Rakesh K. Tekade
Ram Bilas Pachori
Ramadan M. ALI
Ramayah
Ramesh Kate
Ramin Khodafarin
Ramon
Ramón Martínez Rodríguez-Osorio
Ramu Pillalamarri
Ramzi-Jeddi
Rania Darwish
rasha abdul-wahab
rasha shakir abdul-wahab
Rashid Saeed
rasif mohd zain
Rasool KAZEMZADEH
Raul Antonio Aguilar Vera
Ravichandran C G
RAVINDRA KUMAR SINGH
Ravindra N.Mukerjee
Ray Pradip Kumar
Raymond J W Chiong
Razieh Sabet
Razvan Raducanu
Remi Asnes
Remus BRAD
Ren Fuji
Ren-Junn Hwang
Resta - Marina
Rex Palmer
Reza Bayat
Reza Berangi
Reza Chavosh Khatamy
Reza Kerachian
Reza Malekian
Riaz Ahmad
Riaz Naseer
Ricardo Bustillo Mesanza
Richard K. Snow
Ridha Hambli
ritchie mae tonzo gamot
Rizwan Syed Mohd
Robert Andrei Buchmann
Robert Baťa
Robertas Damasevicius
Roberto Revetria
Roberto Rivoir
Roberto Rodriguez
Rodica Stoian
Rodica-Mariana Ion
Rodrigo Capobianco Guido
Rodrigo Hartstein Salim
Rodrigo Hartstein Salim
Rogelio Palomera
Rohit Mehra
Rohit Mehra
Rok Istenic
Rolando Cardenas
Roman Klinger
Rong-Chang Chen
Rongjou Yang
Rong-Jyue Fang
Rooklidge
Rosalina Abdul Salam
Rosário Calado
Rosiza Raikova
ROUABHIA Abdelkader
Roumen Kountchev
Roumiana Kountcheva
ROXANA-MARIANA ZOICAN
ROYTGARTS
Ruchika Malhotra
Rueda Elsa
Rui Barros
Ruslan Rainis
Rute Santos
Ruth Cobos Pérez
Ruyen Ro
Ryszard Zielinski
S. Karthikeyan
S. Poornachandra
S.Andrews
S.G.Srivani
S.M. Aqil Burney
S.Manikandan
s.sasikumar
S.SUBRAMANIAN
S.V.Srinivasan
S.Zahra Bathaie
Saad Alharbi
Saad Bakkali
Saad Bakkali
SAADI-Slami
Saadiyah Darus
SAADIYAH DARUS
Sabato Manfredi
Sachin Bhardwaj
Sachin Laddha
Sadegh Salehi
Sadegh Partani
saeed pourroostaei
Saeed Taan Al-Hajjar
Said Ahmed
Said MELLIANI
SAIDFUDIN
Salah Er-Raki
Salah Er-Raki
Salah Leulmi
Salar Malekzadeh
Saleem M. Abuleil
Salvador Bracho
Salvador Mandujano
Salwan S.Dihrab
Samad Ahadian
Sameer Hanna Khader
Samir Kumar Das
SAMSUL ARIFFIN ABDUL KARIM
Sandeep Kumar Garg
SANDEEP VANJALE
Sanderson Gonzaga de Oliveira
Sandip Vijay
Sandro Saitta
Sang-Won Nam
Sani Susanto
Sanjay
Sanjay B. Ingole
Sanjay Garg
Sanjay Sharma
Sanjay V Dudul
Sankaragomathi
Santos, Max Mauro Dias
Saqib Saeed
Sarawut Sujitjorn
Sarawut Sujitjorn
Sarka Necasova
Sarma Cakula
Sattar Jabbar Aboud
SATVIR SINGH DESWAL
Satya Shah
Satya Shah
Savvas Papagiannidis
Saw Chin Tan
Sayavur Bakhtiyarov
Sebastian Krivograd
Seda POSTALCIOGLU
Seifedine Kadry
Seiyed Moussa Hosseini
Selma Celikyay
Senol Ataoglu
Senol Hakan Kutoglu
Seong Baeg Kim
Seppo Sirkemaa
Serafim Poriazis
Seraj Y. Abed
Sergejs Nazarovs
Sergey Leonov
Sergey Ludkovsky
Sergio Amat Plata
Sergio Bianchi
Sergio Cano
Serguei F. Timouchev
Seungmin Rho
Sevia M Idrus
Seyed Amin Arman Hashemi Monfared
Seyed Morteza Babamir
Seyed Yousef SADJADI
Seyedeh Zahra
Seyfettin Bayraktar
Seyfettin BAYRAKTAR
Seyit Temir
Shabaan A. K. Elroby
Shadi Mahjoob
Shady Hamdy Farahat
Shafiqur Rehman
Shah - Haque
Shahbaz Pervez
Shaheera Rashwan
Shahid Ikramullah Butt
Shahram Javadi
Shahrum Abdullah
Shahzad Sarwar
Shaikh Alam
Shakeel Khoja
Shaneel Narayan
Shaneel Narayan
Shangwu Xiong
Sharad Gokhale
Sharif Elbaevich Guseynov
Shariful Hasan Shaikot
Shariq Adel
Sharul Kamal Abdul Rahman
Shas Rashid
shattri mansor
Shaukat Ali
Shaw Ching Chang
Shawki A. Al-Dubaee
Shawki A. Al-Dubaee
Sheel Pandey
Shengchao Ding
Sheng-Gwo Chen
Shengxiang Jiang
Sheng-Yuan Yang
Shiguo Lian
Shih-Kai Lee
Shih-Lin Lin
Shihong Yue
Shihua Liu
Shih-Yuan Wang
Shilpakala SainathRao
Shing Chiang Tan
Shirley Sze Yin
Shishir K. Shandilya
SHIV PRASAD PUROHIT
Shivkumar Sabesan
Shoukat Ullah
SHRISHAIL T PATIL
Shun-Ping Chung
Shunsuke - Meshitsuka
Si Mohammed Mohammed Arezki
Siamak Bodaghpour
Siavash Sohrab
Sidhartha S. Padhi
Sijun Zhang
Simona Lache
Sina Amini
Sina Doroudgar
sing khan khai
Siti Aishah
Siu Leung Fung
Sivasamy
Smaranda Cosma
Snjezana - Pivac
Sohail - Safdar
Sohail Iqbal
Somasundaram
Somlak Wannarumon
Songjun Li
Songyot Sureerattanan
Sorada Kanokpanont
Sorapak Pukdesree
Sotiris Kotsiantis
Soumyajit Mukherjee
Spits Warnars Harco Leslie Hendric
Sreenivasan Ravi
Srinivasamoorthy
Srinivasan Alavandar
SRINIVASAN PURUSHOTHAMAN
Stanislava Labatova
Stanislaw Tarasiewicz
Stavros Ponis
Stefan D. Bruda
Stefan Hadjitodorov
Stefan König
Stefan Panic
Stefan Schmidt
STEFĂNESCU Andy Costinel
STEFĂNESCU Nicoleta Laura
Stefania POPADIUC
Stefanos Kollias
Stelios Zimeras
Stella Morris
Stephanos Mavromoustakos
Stephen Chen
Stephen Chi Fai Chan
Stephen Chi-Fai Chan
Steve Davis
Steven K. C. Lo
Stratis Kanarachos
Styliani Petroudi
Su Moon Ting
Su Yi
Subariah Ibrahim
Subaschandar Narayana Rao
Subodh Kumar Maiti
Sudeep Marwaha
Sudesh Sivarasu
SUDHIR SHARMA
Sudip - Basak
suhas patil
SUHAS PATIL
Suheyla Yerel
Suhono Harso Supangkat
Sujata Satapathy
Su-Kit Tang
Sumanth Yenduri
Sumita Basu
Suneeta Agarwal
Sunita Gakkhar
Sun-Yuan Hsieh
Surajit Chattopadhyay
Suranan Noimanee
Surendra P. Verma
Suresh Sankaranarayanan
Surindra Suthar
Suriya Kaewarsa
Suzana Yusup
Svetla Vassileva
Svetlana Oard
Swarnalatha. P
Syed Abdul Rahman Al-Haddad
Syed Ishtiaque Ahmed
Syed Kashif - Nawaz
Syeda Azeem Unnisa
Sylvain BARTHELEMY
Sylvia Waara
T D SUDHAKAR
T. Ramayah
Taan Elali
Ta-Cheng Chen
Tae-Woo Lee
Tahseen - Jilani
Tahseen Jilani
Tahseen- Jilani
Tahseen-Jilani
Tain-Sou Tsay
Takuya Yamano
Tam Nguyen
Tanja Arh
Tao Zhang
Tarak DAMAK
Tarek EL-Fouly
Tawfig Eltaif
Teh Chee Siong
Tejbanta Singh Chingtham
Terje Gjengedal
Tetsuya Shimamura
Tetsuya Yoshida
Teymuraz Abbasov
Thai Duy Hien
Thair Al-Taiee
Thanasis Iliopoulos
Thanatchai Kulworawanichpong
Theodor Dan Popescu
Theodore Ganetsos
Theodoros Karakasidis
Theodoros Tsapanos
Theodoros Xanthos
Theresa Jeevanjee
Thierry CONDAMINES
Thiruvenkatasamy Kannapiran
Thomas Panagopoulos
Thomas panagopoulos
Thomas T. Yang
Tibi Beda
Tibor Hianik
Tihomir Trifonov
Timis,Mihai
Tina
Tin-Chih Toly Chen
Ting- Nien Wu
Ting-Zhu Huang
Tofigh Allahviranloo
Tohru Kawabe
Tomasz Dlugosz
Tomasz Plewa
tong yuen Chai
Traore Drissa
Tshilidzi Marwala
Tsvetanka Georgieva
TUTĂNESCU Ion
Tze-Yun Sung
Tze-Yun Sung
Tzung-Pei Hong
Udai Shanker
Uday Desai
Umit Guz
Upendra
Uroš Klanšek
Usman Ali
Usman Raheem
Utku Güner
Utku Güner
Uwe Naumann
V.P. DEVASSIA
vahid dehnavi
Vairis SHTRAUSS
Valentin NAVRAPESCU
Valentina Balas
Valeri Bubnovich
Valerio D'Alessandro
Valeriu Prepelita
Valeriy Perminov
Valsalal Padmaprasad
Varzakas Panagiotis
Vasant Matsagar
Vasant Menon
Vasile STOICU-TIVADAR
Vasiliki Papada
Vasilios D. Tsoukalas
Vasos Pavlika
Vasudha A. Gokhale
Venkata Durga Kumar
Venkatasubramanina Swaminathan
Vethamony
Victor Grigoras
Victor Hinostroza
Victor N. Kasyanov
Victoria Rivas
Viera Biolkova
Vijay Gupta
Vijayalakshmi Saravanan
VIJENDRA BABU D
Vimala Juliet
Vinay KUMAR
Vinay Kumar
Vincenzo Niola
vinit-jakhetiya
Vinod DS
Vinod Kumar Pandey
Viorel-Fanel PANAITESCU
Vipul Arvindbhai Shah
Virginia Little
Viriato Marques
Vitthal Bandal
vivek khambalkar
Vivek Krishnarao Sunnapwar
Vivian Vimarlund
Vladimir Geppener
Vladimir I. Ponomarev
Vladimir Jurisic
Vladimir Pletser
Vladimir Sokolov
Vlahovic Nikola
Vytautas Dumbrava
wael elmamlouk
wael el-mamlouk
Wai Lok Woo
waiel Abd el-wahed
Wan Hussain Wan Ishak
Wang Lei
Wang Zhixin
Wann-Ming Wey
Watcharawalee Tangkuptanon
Watcharawalee Tangkuptanon
Wei Wu
Wei-Haur
Weihua Li
Weilian Su
Weiwei Fang
Wei-Yang
Wei-Yen Wang
Wenjun-Liu
Wenjun-Liu
Wen-Shai Hung
Wen-Tsai Sung
Wen-Yen Wu
Wen-Zer Lin
Wilfried Honekamp
Wilmar Hernandez
Wing-Ho, SHUM
Withaya Puangsombut
Woei-Jiunn Tsaur
WP Fang
Xianjun Yin
Xiaojun Tang
Xiaoyu Li
Xin Chen
Xiren Wang
Xiucui Guan
Xiue Wang
Xu Lisheng
Xuheng Kuang
Y.C. Alicia Tang
Yahia Zare
Yahya Slimani
Yakui Xue
Yan Luo
Yandra Rajasree
Yang Han
Yang Han
Yang Han
yang zhang
Yanguang Chen
Yannick Le Moullec
Yao Yufeng
Yao-Tien Wang
Yas Alsultanny
Yasir K. Ibrahim
Yasser Al-Saleh
yi - wang
Yi-Chu Huang
Yiming Li
Yin-Fu Huang
Ying - Bai
Ying-Jeh Huang
Yinglei Song
Yin-Tien Wang
Yin-Tien Wang
Yi-Rong Zhu
Yogesh Kumar
Yong Hu
Yong Woo Lee
Yongyuth Permpoontanalarp
Yoonsik Choe
Yoshiki Nakamura
Youcef HIMRI
YoungChoong Park
Young-Jin Kim
Youssef FAKHRI
Yu Chuan-Chang
Yu Zhang
Yuan-Horng Lin
Yuan-Hui Yu
Yuan-Kang Wu
Yue Dong
Yue-Shan Chang
Yuh-Min Tseng
Yuh-Shan Ho
Yuhui Deng
Yu-Jung Huang
YuLung Wu
Yun Huang
Yu-Quan Sun
Yuri Tarasevich
YUSRI YUSOF
Yusuf ONER
Yutao Ma
Yutao Ma
Yu-Xiang Zhao
Yvon Chevalier
Zadeh Lotfi
Zafeiria Roumelioti
Zafor Alam
Zaid Shamsan
Zaid Shamsan
Zaigham MAHMOOD
ZAINODIN HAJIJUBOK
Zakaria Suliman Zubi
Zamalia Mahmud
Zarita Zainuddin
Zbigniew ZEMBATY
Zdenek Kolka
Zdenka Gogala
Zeljko Djurovic
Zeljko Panian
Zeyad Al-Zhour
Zeynel Demirel
Zhang Weihong
Zhao Yong
Zhaohu Luo
ZhaoYang Dong
Zheng Yan
Zhengshu Shen
Zheng-Wen Xu
Zhi Teng
Zhiguang Xu
Zhou Shuming
Zhu shiyun
Zoran Bojkovic
Zoran Nikolic
Zoran Stjepanovic
Zubi Al
Zulfiqar Habib
Zuraini Ismail
Zvone Balantic
Nektarios Chrysoulakis
Trilok Chand Aseri
Muhammad Almas Anjum
Join us as Reviewer:
http://www.wseas.org/reviewersoffer.htm